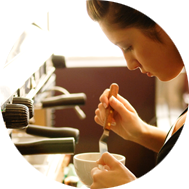 Our 5 hour training programs are nationally accredited with ASQA. We specialise in providing intensive training programs to achieve timely and cost effective solutions for our clients.
We are a Nationally Recognised Registered Training Organisation (RTO No. 91399).
The Australian Barista School is based in Melbourne, Sydney, Brisbane and Newcastle and was established with a mission to provide affordable coffee training and coffee classes by people passionate about coffee.
We are a group of Melbourne, Sydney, Brisbane and Newcastle coffee industry people with a combined experience of over 60 years in the coffee industry. We have owned a roaster and espresso bars. We are specialists in the modern way of making coffee.
Book securely online 24/7. No credit card? Our booking office for barista classes is on level 10 of the Dymocks Building (428 George St, Sydney CBD) and is open Mon-Fri 9am-5pm. Pay cash/EFTPOS or credit card only available in Sydney (not Brisbane) but bookings prior to the day of your coffee course are essential as class sizes are strictly limited.
Community
At Home
The Australian Barista School donates courses to a number of schools, organisations and charities in Brisbane and Sydney. These include charities such as Vision Australia and schools such as Normanhurst West Public School and Artarmon Public School.
Abroad
We are also very excited about the Barista lending team we have started on Kiva. Kiva is an amazing non-profit website that gives you the chance to lend as little as $25 to a specific low-income entrepreneur in the developing world.
The people you see on Kiva's site are real individuals in need of funding - not marketing material. When you browse entrepreneurs' profiles on the site, choose someone to lend to, and then make a loan, you are helping a real person make great strides towards economic independence and improve life for themselves, their family, and their community. Throughout the course of the loan (usually 6-12 months), you can receive email journal updates and track repayments. Then, when you get your loan money back, you can relend to someone else in need.
Once you're a part of our team, you can choose to have a future loan on Kiva 'count' towards our team's impact. The loan is still yours, and repayments still come to you - but you can also choose to have the loan show up in our team's collective portfolio, so our team's overall impact will grow!
We love the idea of Kiva because we are entrepreneurs and we are helping other entrepreneurs who have shown initiative to have a go! More importantly, we get to help out entrepreneurs in countries that the coffee we drink comes from.